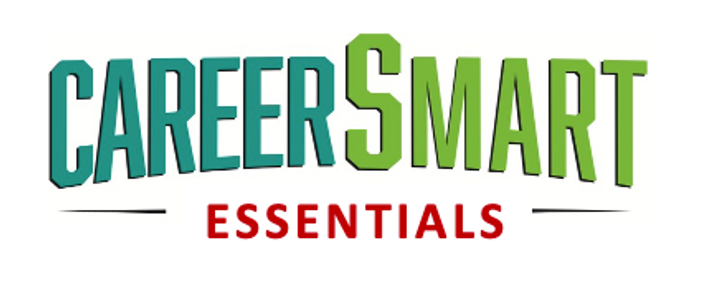 CareerSmart Essentials - ENROLL NOW - START LEARNING TODAY
The essentials of planning for success in Career, College, and Life
A new online course to help teens and young adults discover the essential tools to plan for careers, college, and life.
Not Ready to Enroll?
Try Out Module 1 for a No Cost Free Trial
Bulk Course Registrations
If you want to purchase multiple licenses for use by your school or organization, contact NC3T to find out more.
Send email to: [email protected].
As a young adult, you deserve the chance to learn about yourself, the world of career options, and what type of postsecondary programs and majors can help you get there. But finding all of these core concepts packed into one learning experience is not easy.

That's why this new online course - CareerSmart Essentials -- is THE learning opportunity of a lifetime – condensed into about 12 hours of rich learning and discovery.
Course Promise
This short self-paced online learning course is designed for young adults and forward-looking teens who want to learn the essentials. During this course, students will learn about and begin to apply the Career Development process and create a personalized Education and Career Plan. This Education and Career Plan is a beginning of a map to help navigate career exploration, course-taking in school/college and beyond postsecondary education toward their first career objective.
Course Structure
During the online course, the student will engage with 8 learning modules. Each module includes:
One or more video-based briefings;
Supporting text for the student to read (2 or 3 pages at a time);
A short quiz or assessment to check for understanding of key concepts;
An activity for the student that will take 20-30 minutes to complete;
Additional links and citations for additional free and paid resources that can be accessed now or later.
Each module should take between 75 and 90 minutes to complete.
Certificate of Completion and Lifetime Access
NC3T will provide the successful course completer with a Certificate of Completion, including a list of the key concepts covered in the course.


Your Instructor

Hans Meeder is co-founder and President of the National Center for College and Career Transitions (NC3T), a mission-driven organization that provides coaching, technical assistance, and technology platforms so every student has the opportunity to participate in Career Connected Learning. Mr. Meeder has an extensive and varied career in education and workforce policy and government leadership, with an emphasis on high school redesign, career and technical education, and workforce quality. Prior to founding NC3T, Meeder served as Deputy Assistant Secretary for Education in the U.S. Department of Education Office of Career, Technical and Adult Education. Mr. Meeder is the author of several books and online courses, including The Power and Promise of Pathways, the Pathways System Design Suite, the STEM Leader Guide, and Career Connected Learning 101.
Stephanie McHugh has served Pennsylvania public school students for over 20 years via her college admissions, counseling, consulting, and leadership positions in school districts, intermediate units, and as a counselor lead with the Pennsylvania Department of Education. Additionally, McHugh has also impacted future educators as an adjunct professor in Counselor Education Departments at Duquesne University and California University of Pennsylvania.
Gina Hipps, a Professional School Counselor for over 20 years, serves Yough School District as a high school counselor and Curriculum Team Leader. Immersed in career development opportunities, she partners with the Career Ready Team and facilitates a student driven career and leadership group through The Consortium for Public Education. In addition, her experience as a curriculum developer and course facilitator impacts career initiatives across Western Pennsylvania through a regional, online education platform.
What's inside CareerSmart Essentials?
Module 1: Career Navigation Essentials
Module Description:
During Module 1, you'll learn how people discover a good career match: A four-part process called "Career Development." Then you'll begin to dive into the first stage of career development, which includes learning about the world of work. By understanding how the U.S. economy is structured, you'll learn about the types of careers that are spread across the economy.
The Student will:
Develop the essential "Career Navigation Mindset" that provides a positive approach to career exploration and experimentation.
Apply the basic concepts of career navigation. Discover the process of matching your personal temperament and interests with aptitudes, values, and opportunities.
Grasp the basic organizational structure of the U.S. economy including the national model of 16 Career Clusters, the 10 recognized Industry Sectors comprising goods-producing and service-providing industries, and how Clusters and Sectors impact one another.
Module 2. Discovering Your Style and Interests
Module Description:
In this module, you'll spend time in the second stage of Career Development, the "Exploration and Self-Discovery" stage. Specifically, you'll be looking for clues about how you're wired, both through the way you learn best and your career temperament. This module will encourage you to investigate who you are and link your results to careers of interest.
The Student will:
Explore multiple learning styles while differentiating likes and dislikes.
Discover how personal traits relate to the Holland Career Temperament Model creating an individual Holland Code.
Analyze how their own Holland Code and learning style relate to the world of work. Learners will survey individual results with their personalized support system, formulating a true view of self.
Module 3. Finding Your Career "Fit"
Module Description:
In this module, you'll continue in the second stage of Career Development, the "Exploration and Self-Discovery" stage. You will assess your work values, skills, and expectations. This module will lead you to a better career fit, minimizing college expense and debt. By achieving a clear understanding of how you fit into the world of work, you will experience a smoother transition into postsecondary education and entry level employment.
The Student will:
Assess their own work importance ideals, work skills, and education goals.
Differentiate among career options based on interests, skills, knowledge needed, work values, technology, personality, projected openings, projected salaries, education needed, and more.
Formulate a career "Best Fit" list and encourage their personalized support system to critique the list. Learners will establish confidence toward career choices, increasing personal purpose, excitement, and resilience toward career goals.
Module 4. Money Matters
Module Description:
In this module, you'll explore all four areas of Career Development, including Career Management, while focusing on the importance of earnings, earnings per career choice, and monthly budgeting. You will analyze the relationship of earnings, work values, and career fit to well-being and spending habits. This module will compare the cost of college and loan repayment options in relation to future salaries.
The Student will:
Create a personalized budget beginning the journey to financial stability. Learners will analyze budget optimization strategies with personal support systems.
Review the postsecondary education financial aid process while investigating governmental and private financial agencies and services.
Analyze their budget and the cost of college and loan repayment schedules with a realistic understanding of potential earnings.
Module 5. Postsecondary Education Planning
Module Description:
In this module, you will understand the four parts of the postsecondary educational planning process: Preparation, Information, Visitation, and Application. This module will address how preparation, transcripts, test scores, and your overall high school record can help you clarify your career aspirations and future goals.
The Student will:
Explore the variety of postsecondary educational options available beyond a traditional, four-year college degree and how the student's postsecondary educational choice should match their career aspiration.
Analyze the component parts of their high school record (transcript, extracurricular, and work-based learning activities) and how the contents can support their future career aspirations.
Review how aptitude testing for the military, colleges and universities, or placement testing for trade/technical schools or community colleges, can support their future goals.
Module 6. Postsecondary Education Decisions
Module Description:
In this module, you will learn more about postsecondary decision-making, including asking the right questions – based on the Seven Factors of Fit – to determine whether a postsecondary school is a fit for you.
The Student will:
Explore the manner by which they may gather information regarding postsecondary educational opportunities (Information and Visitation).
Test out the Seven Factors of Fit and the process of vetting postsecondary educational options for themselves, based on these criteria.
Organize the postsecondary application processes and how to make direct connections with those postsecondary institutions by applying to schools that are a fit for them.
Module 7. Employability Skills
Module Description:
In this module, you will focus on the last two phases of Career Development: Career Preparation and Immersion and Career Management. You will learn about the 10 "Employability Skills" that employers value and that everyone needs to experience workplace success, as well as broader life success. Through a re-usable Employability Skills assessment, you'll be able to reflect on how well (or not) you're applying these skills in school and work settings.
The Student will:
Investigate the skills gaps of entry level workers from the employer's view.
Complete an Employability Skills assessment, to identify strengths and weaknesses, and create an improvement plan.
Build confidence in the "Employability Skills" mindset to enter the world of work with integrity and resilience.
Module 8. Career Management Essentials
Module Description:
In this module, you will learn the key concepts of Career Management, including building a personal professional network, creating a resume and cover letter, using job search tools, and preparing for an in-person or video-based interview.
The module will culminate with instructions on collaborating all activities from prior modules into an individualized Career and Education Plan.
The Student will:
Create a cover letter and resume.
Understand the appropriate components of a professional networking profile (e.g. LinkedIn) and the importance of networking resources.
Prepare for and succeed in an in-person, phone, or video-based interview.
Create the first version of their personalized Education and Career Plan.
About NC3T
The National Center for College and Career Transitions is a mission-driven organization focused on promoting Career Connected Learning for all youth and young adults. We provide tools, resources, coaching and technical assistance to help educators incorporate Career Connected Learning into their learning environments.
Key products and services from NC3T include:
CareerSmart Essentials:
An online course to help teens and young adults discover the essentials of planning for careers, college and life.
CareerSmart Classrooms:
The CareerSmart Classrooms system provides resources designed to help all educators embrace career connected learning while still effectively delivering their core instructional content. https://www.nc3t.com/careersmart-classrooms-systems/
The Pathways System Design Suite:
Planning resources to help design Pathway Programs of Study and integrated Pathways systems?https://www.nc3t.com/psds/
Seamless WBL:
A system to help educators manage their relationships with employer partners, set up and track work-based learning experiences, and run employer-led advisory boards.
www.SeamlessWBL.com
To learn more about NC3T, visit us at www.NC3T.com.
Frequently Asked Questions
When does the course start and finish?
The course starts now and never ends! It is a completely self-paced online course - you decide when you start and when you finish.
How long do I have access to the course?
How does lifetime access sound? After enrolling, you have unlimited access to this course for as long as you like - across any and all devices you own.